SWAT Operator Pin
Center Mass
SKU:
CM-1181
|
UPC:
626570616313
Availability:
Usually ships within 24-48 hours.
The SWAT Operator insignia has been adopted nationwide by law enforcement and corrections agencies as their official SWAT qualification insignia.
The pins are constructed with a double clutch back. They are 1" high x 1.5" wide, and come in five different colors and three different levels (operator, senior operator, and master operator).
The appeal of this insignia is that it is very professional looking, not overly aggressive or politically incorrect, and symbolizes the ideal characteristics of a SWAT Operator.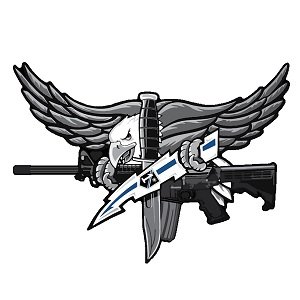 Eagle: Honor & Integrity
Rifle: Firepower
K-Bar: Stealth
Lightning Bolt: Speed & Forcefulness of Action
| | | |
| --- | --- | --- |
| | | |
| SWAT Operator 0-5 years | Senior SWAT Operator 6-10 years | Master SWAT Operator 10+ years |
To learn more about the SWAT Operator Insignia and it's meaning click HERE!